2022 Video Competition on "Creating Hope Through Action- Suicide Prevention"
September 5, 2022
Free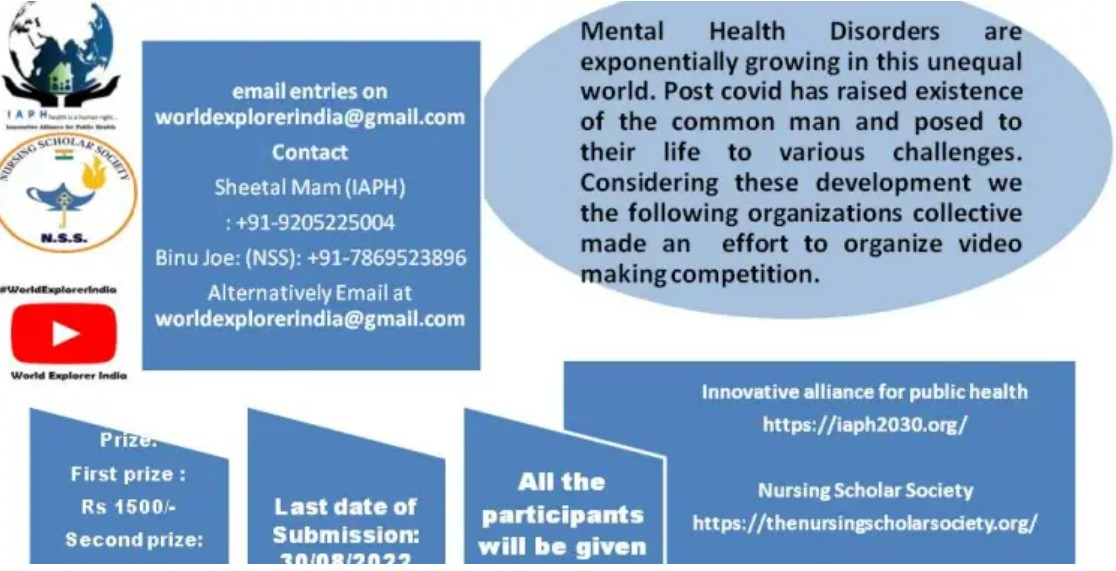 Background:
World suicide prevention day WSPD was first launched in the year 2003 on 10 September by international association of suicide prevention.
International Association for Suicide prevention announced the theme for the years 2021-2023 "Creating Hope through Action"
Message of hope to empower the people with confidence to engage with this complex task.
Aim:
To create a movement of preventive action, with sustained messaging to drive behavior change and ultimately, prevent more suicides
To develop creative video making skills among public on social issues
Prize: ( only for the entries received from India)
First prize : Rs 1500/-      Second prize: Rs 1000/-             Third prize: Rs 500/-
For any queries contact:
Sheetal Mam (IAPH) : +91-9205225004
Binu Joe: (NSS): +91-7869523896
Alternatively Email at worldexplorerindia@gmail.com for any queries.
Event is Promoted by  
DR. BHUNESHWARI DASH, Associate Professor,  Late Smt Sudha Devi Memorial Government Nursing College Kabirdham,  Chhattisgarh Pin 491995
Mr. Melvin David, PES College of Nursing, Kuppam, Andhrapradesh
Technical Support by
Mr. Govind Soni Https://www.linkedin.com/mwlite/in/govindsoni
Concept Note prepared by: Kuruva Mallikarjuna, Masters in Mental Health Nursing
+91-9560956513, worldexplorerindia@gmail.com https://www.youtube.com/c/worldexplorerindia
Certificate of Participation: ( Globally)
All the participants will get the E- certificate of participation. This is annual event and your video will be searched all over the year and also every year. It is good chance for self marketing  and also develops video editing skills by participating in competition.
Fees for entry
Free for all members
Last date of Submission:
All the entries received before the 30/08/2022 only will be considered.
Video to be uploaded to Google drive and share with editing and downloading permissions to be e-mailed at worldexplorerindia@gmail.com.
Share Google drive video link and consent form in the single email
Eligible Criteria:
1.            Age minimum of 18 years age
2.            Minimum length of video is 5 minutes to the maximum of 30 minutes  on Theme "Suicide Prevention — Creating Hope through Action"
3.            Video  proposals with only real persons will be accepted.
( Note:  use of images, photographs from websites, animation  is Not accepted)
4.            Do not use any music for the video production.
5.            Entries are allowed in the language of Hindi and English only
6.            Organizers are not responsible for any financial or legal implications involved in production of films
7.            Participants self certify the authenticity/ claim about original work of the submitted entries or for consideration of awards
8.            Video should have a clear voice over/ Dialogues
9.            Participant may use local geographical issues, themes for the video production
10.   All entries must have clear details of Participant Name, Mobile Number,  Age Proof, valid ID card, pass port photo, profession, address of participant in the consent form
11.   No requests for re-evaluation will be done.
12.   Decision of the organizers will be final and binding to all entries. Organizers reserve the right to relax the rules of competition for good content.
13.   Consent form to be duly sign after reading the terms and conditions and accepting for the same.
14.   All the videos submitted for the competition will have the copyright and can be used for uploading in the social media channels of IAPH, Nursing Scholar Society & World Explorer India YouTube channels and social media of the organizers.
15.   All the participants will get e-certificate of participation
16. Participants can also request to hold their video only before publishing in social media sites.
17. All videos will be uploaded in world Explorer India YouTube channel initially on 3/10/2022 and the video reach will be included in the evaluation criteria of award selection (20% criteria of evaluation)
18. Evaluation by experts 3-5 from organizing committee will evaluate for 80% of criteria for evaluation as mentioned below in this brochure.
Technical specifications:
1.            Length of video should be minimum of 5  minutes to maximum of 30 minutes
2.            Video Should clearly mention the end credits of actors names
3.            Recommended resolution of the video is 1080 x 1920 in Land Scape Mode
         ( portrait mode videos not accepted)
4.            Film can be shot on smart phone or video camera
5.            Video format should be MP4
6.            Participant declares that all the persons involved in the video consent for the video production
7.            Any politically inclined content/ violation of community standards will not be entertained and will be treated as offence under cyber law
8.            Participant consents that the video may used by the organizers for social media uploading, however, only selected videos will be awarded
9.            Contestant declares that video made by her/him has not used any others video or audio
10.   Contestant shall not disclose or use any information which may create issues of confidentiality
11.   Videos must not promote the illegal products, services or activities
12.   videos should not discriminate or encourage discrimination against people based on personal attributes such as race, ethnicity, color, national origin, religion, age, sex etc.,
13.   Videos should not contain adult content, including nudity. Videos must not contain shocking, sensational, disrespectful or excessively violent content.
14.   Videos must not contain deceptive, false, misleading content, including deceptive claims, offers or business practices
Zoom Conference on World Suicide Prevention Day  on 10  September 2022
( coordinated effort of all organizers)
Zoom Conference on World Suicide Prevention Day on 10th September 2022 and the prize, E-Certificate  distribution will be done on the same day. Top 3 winners videos will be presented in the conference on the same day.
Time: 10 AM to  11 AM ( IST, GMT+5.30)
Agenda:
| | |
| --- | --- |
| Time | Topic |
| 10.00 am- 10.05 am | Introduction and Welcome session |
| 10.05 am- 10.30 am | Theme Presentation |
| 10.30 am -10.45 am | Selected videos presentation |
| 10.45 am-10.50 am | Prize distribution and certificate distribution online |
| 10.50 am- 11.00 am | Vote of Thanks |
Program  can be modified. Plans of Webinar or Seminar in progress.