Pause The City Vigil
September 10, 2022
Free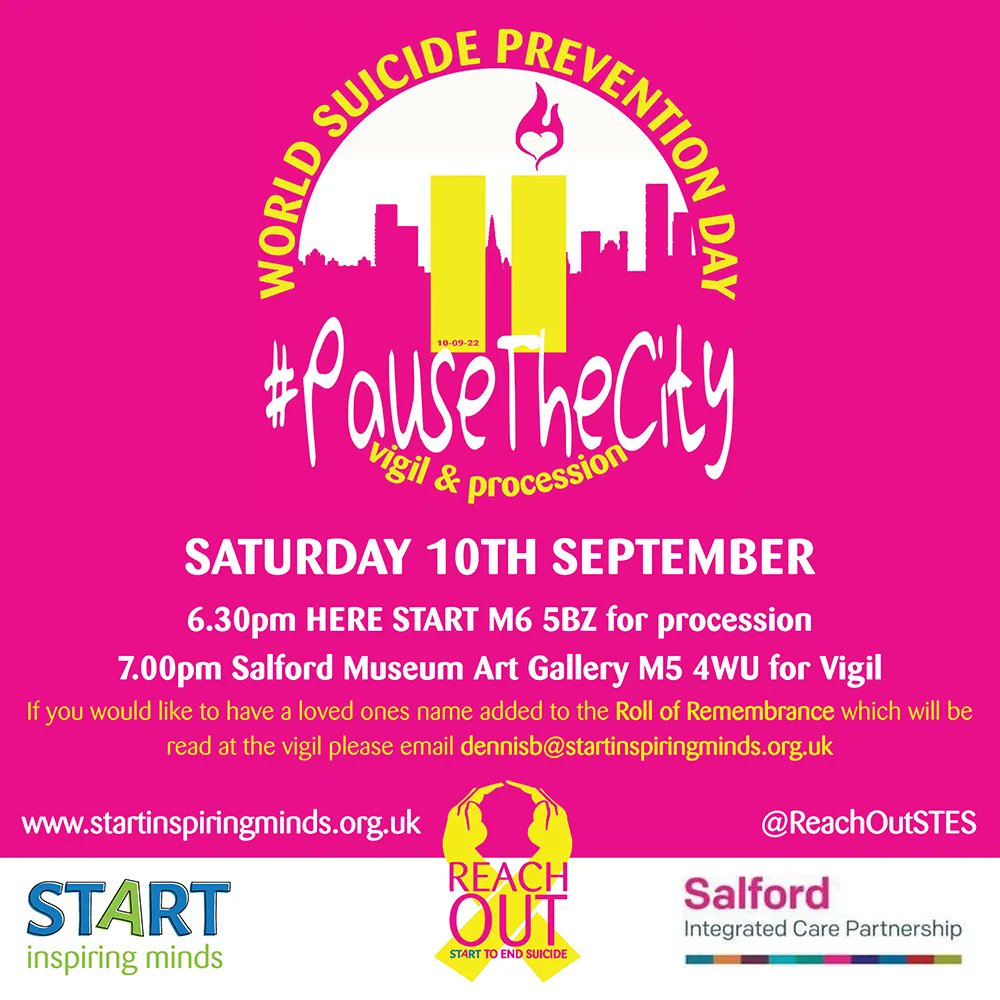 Salford mental health charity Start Inspiring Minds will take to the streets for a Vigil & Procession of Remembrance of all the lives that have been lost to suicide on World Suicide Prevention Day, Saturday 10th September will see members of the public uniting to 'Pause The City' at Starts Wellbeing Centre, before the Vigil & Procession of Remembrance commences remembering those we have lost to suicide and in support of those left behind.
126 yellow flags, each representing a life lost to suicide in Salford over the last five years will be unfurled along the procession route to Salford Museum & Art Gallery. Once at the Museum & Art Gallery a vigil of speakers and performances will respectfully honour the lives of those lost to suicide and validate the grief of those that survive within this community display of unity and support.
The Vigil & Procession of Remembrance will remember those that we have lost and demonstrate to those that have lost loved ones to suicide that the community is here for them with this mass demonstration of support. It contributes towards smashing the stigma that is associated with suicide in all its forms, and contributing to a community that enables people to discuss suicide and enable people to disclose when they are experiencing suicidal thoughts and ideas.
The Vigil & Procession of Remembrance will feature: Jace Campbell, Jardel Rodrigues, Judd Skelton – Salford Integrated Care Partnership, Mike Palmer – 3 Dads Walking, Ordsall Acappella Singers,  Paul Dennett – Mayor of Salford, Rebecca Long-Bailey – MP for Salford & Eccles, Robert Jackson – Salford & Manchester Samaritans, Tom Stannard – Salford City Council and Rowetta Satchell.
A roll of remembrance of lives lost to suicide will be read and a minute's silence being observed for all the lives lost to suicide. If you would like to have your loved one's name added to the roll of remembrance please email: dennisb@startinspiringminds.org.uk
If you would like to register to carry a flag in remembrance of a loved one in the procession visit the Eventbrite page here.
World Suicide Prevention Day Vigil of Remembrance, Saturday 10th September
6.30pm Gather START Wellbeing Centre M6 5BZ, Procession of Remembrance, 7.00pm Vigil of Remembrance, Salford Museum & Art Gallery M5 4WU