Suicide, self-harm and mental health (Hybrid) seminar
September 15, 2022 @ 11:30 am

-

2:30 pm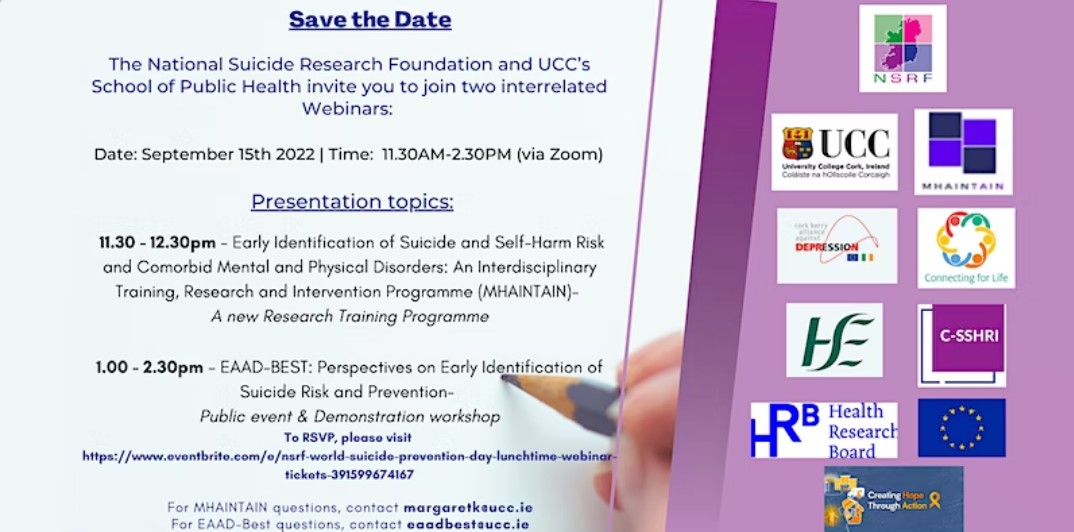 This online event will take place on September 15th to mark World Suicide Prevention Day.
All welcome and attendance is free.
The National Suicide Research Foundation and UCC's School of Public Health and their partners invite you to join two interrelated webinars:
About this event
The MHAINTAIN Consortium
MHAINTAIN: 11:30am-12:30pm
New HRB Collaborative Doctoral Research Training Programme.
Early Identification of Suicide and Self-Harm Risk and Comorbid Mental and PHysical Disorders: An INterdisciplinary TrAining, Research and InterventioN Programme (MHAINTAIN).
The MHAINTAIN programme, hosted at UCC has been awarded under the Collaborative Doctoral Awards (CDA) 2021 scheme. MHAINTAIN involves an interdisciplinary team supporting the structured training for up to five PhD candidates. More information on the Programme can be found here: https://www.ucc.ie/en/news/ucc-project-on-early-identification-of-suicide-and-self-harm-risk-awarded-15m-hrb-funding.html
Break 12:30pm-1pm
EAAD-BEST: 1pm-2:30pm
Perspectives on Early Identification of Suicide Risk and Prevention- Public Event and Demonstration Training Workshop.
You can read more about the EAAD's Best Practice Model to Improve Depression Care and Prevent Suicidal Behaviour in Europe (EAAD-BEST) by clicking the link to the website: https://eaad-best.eu/