IASP is one of the 17 partners of MENTUPP - Mental Health Promotion and Intervention in Occupational Settings, a 4-year EU-funded project, and supports the European Alliance Against Depression in the communication and dissemination tasks of the project. The primary aim of MENTUPP is to improve mental health in the workplace by developing, implementing and evaluating a multilevel intervention targeting mental health difficulties in Small and Medium Enterprises (SMEs) in the construction, health and ICT sectors. Its secondary aim is to reduce depression and suicidal behaviour.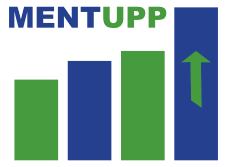 Evidence-Based Intervention
The MENTUPP consortium is developing a multilevel intervention that goes beyond existing mental health promotion and suicide prevention programmes. The intervention tackles:
non-clinical aspects, such as stress, burnout, poor wellbeing, and depressive symptoms;
clinical aspects, such as depression and co-morbid anxiety; and
destigmatisation of mental (ill-)health in SME settings to create mentally healthy workplaces.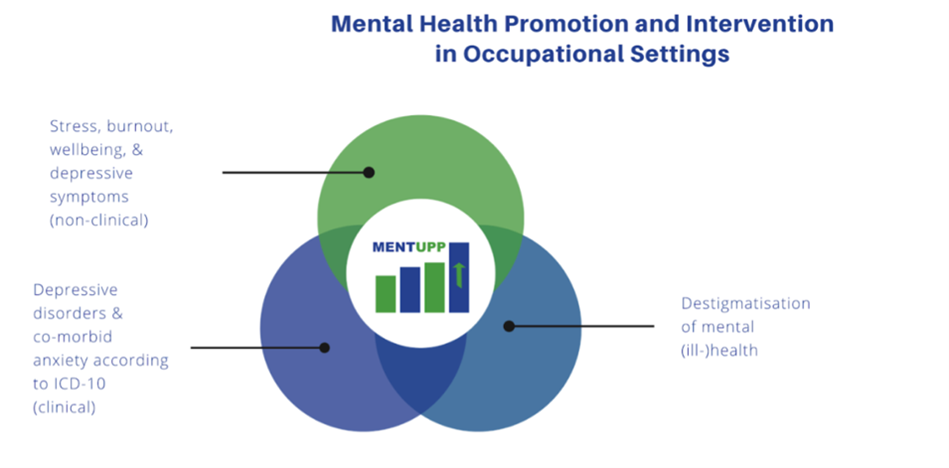 The MENTUPP intervention will:
provide information and tools that can help SMEs to better promote wellbeing at work, create a supportive environment, and prevent and manage the mental health of staff;
provide guidance for SMEs on how to identify employees with mental health problems, allowing SMEs to become active at an earlier stage and before more severe conditions develop; and
support SMEs in creating mentally healthy workplaces, which have been found to be associated with less absenteeism and higher work performance.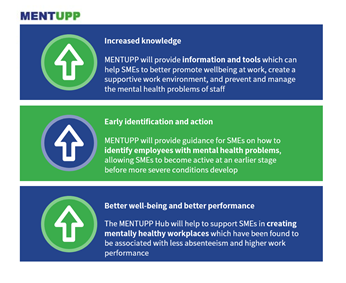 To ensure that the intervention will be fit-for-purpose and feasible, a pilot will be conducted in eight SMEs, including qualitative implementation research into barriers and facilitators. Once optimised, the MENTUPP intervention will be rigorously tested in a Cluster Randomised Controlled Trial (cRCT) in 24 SMEs across eight countries, looking at mental health outcomes, cost-effectiveness (including absenteeism, higher work performance) and implementation factors to establish a robust evidence base. This evidence base will support continued use in the SMEs involved in the project, as well as wider replication in new SMEs, new countries, and new sectors.
Partnerships
MENTUPP brings together experts in mental health, suicide prevention, depression, stigma, implementation science, health economics and other interdisciplinary fields from Albania, Australia, Belgium, Denmark, Finland, Germany, Hungary, Ireland, Kosovo, the Netherlands, Spain, the United Kingdom and the USA.
Communication
Knowledge sharing and open dialogue on mental health in the workplace is a key activity of the MENTUPP project, leveraging the extensive network of the International Association for Suicide Prevention.
For more information, check mentuppproject.eu.