TRIPLE i in Suicidology is an international conference traditionally organized by the UP IAM Slovene Centre for Suicide Research. In recent years, the conference has developed into a platform for fruitful discussions among distinguished experts in suicide research and prevention, interacting with young and perspective suicidologists and other mental health professionals.
Past conferences included a rich programme with various lectures by world-renowned suicidologists. They covered many relevant topics, including numerous suicide prevention interventions in different target populations (e.g., adolescents, elderly), dealing with risk factors in different contexts, diverse challenges in working to prevent suicidal behaviour, as well as bereavement. A unique feature that distinguished the traditional TRIPLE i conference from larger conferences was keeping the deliberately small number of participants and the opportunity to give speakers more time for their presentations. This allowed attendees to receive in-depth and comprehensive information, while also enabling them an opportunity to actively participate in the conference by allowing more time for discussion and exchange of views. The conferences included lectures, symposia, roundtables, workshops, and short oral and poster presentations. Thus, the content of the conference was delivered in a variety of ways, allowing participants to broaden or deepen their knowledge while also actively developing new skills. Our main goal was to create a friendly environment where participants could interact, connect and learn from each other.
Due to the epidemiological situation, the TRIPLE i 2021 Virtual Conference, co-organized in this form by the UP IAM Slovene Centre for Suicide Research, De Leo Fund Onlus and the International Association for Suicide Prevention, will be held online for the second consecutive year.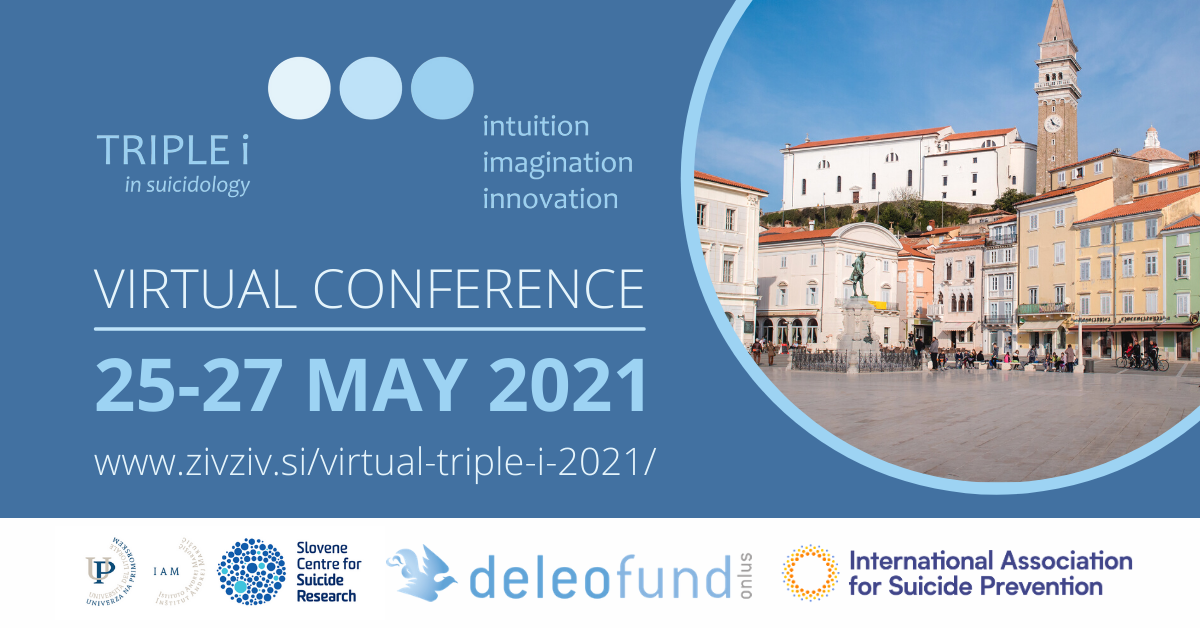 In this form, despite the slightly different format and a larger number of participants, we were able to successfully bring together many renowned suicide experts and other mental health professionals who attended the conference and listened to the lectures from all over the world. Thus, we have prepared a rich program again this year, with the desire to address and invite those who work in the field of suicidality or are interested in this topic. Considering the good response of participants from last year's conference, we have further expanded the conference program this year. We offer even more presentations on topics, including suicide during the epidemic, suicide prevention in adolescents, exposure to trauma and suicide, the relationship between media and suicidal behaviour, etc.; thus, addressing theory, research, prevention, and interventions in suicidology. We have included additional time for discussion to allow participants to share their questions and views.
One of our last year's participants wrote, "This has really been a very informative, heartful and through-provoking session ... It has inspired me to learn so much more ... Thank you so much!", and our desire for the TRIPLE i 2021 Virtual Conference is just that – to provide a space to connect with other professionals and increase awareness and knowledge about suicide. By doing so, we aim to contribute to the development of suicide prevention and postvention activities, while providing opportunities and encouragement for participants to express and practice their intuition, imagination, and innovative ideas.
Vanja Gomboc