It Started and Ended with the Letter P: Priority Populations, Provocative Poignant and Early Career Researchers shaking their Research Groove Thing, Pecha Kucha Style!
After attending Tuesday's pre-conference workshops, the welcome dinner which included a breath-taking and mesmerisingly beautiful performance from local Gold Coast Aboriginal and Torres Strait Islander dancers, and a quick spin around the dance floor by yours truly after dining on a delicious meal, I was excited to attend day two of the official conference program. As someone identifying as a member of a priority population, (queer by name and nature) I made a beeline for Keynote 3: Priority Populations.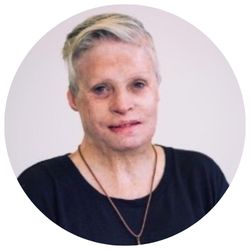 Martina McGrath – PhD Student
Centre for Mental Health, Melbourne School of Population & Global Health, University of Melbourne.
Twitter: @MartinaMcGr
First up, Dr Nicole Hill, a Research Fellow at Telethon Kids Institute in Western Australia and co-chair of IASP's Suicide, Contagion and Clusters Special Interest Group presented The prevention of suicide phenomena in Australian Youth. Dr Hill presented findings from a series of related studies investigating suicide clusters and contagion in Australian youth. Study findings revealed a high prevalence of social factors of experience of family conflict and relationship breakdowns prior to youth suicide. I was also not overly surprised to hear that one study found that a high number of youth had disclosed suicidal intent to a loved one (40%) highlighting the need for families (birth and chosen) to take all suicidal disclosures seriously and for families to have more confidence in responding to young people at risk. Of note, Dr Hill also spoke about the need for greater clinical intervention with study findings revealing the high percentage of youth who were found with illicit substances and/or alcohol in their system at the time of death. Similarly, approximately 50% of those young people who died were receiving treatment for a mental health condition. Nicole, through her team's research findings, was able to provide some invaluable recommendations for search improvements. For example, data revealing the 70% of those who died by suicide were not connected to any form of education, speaks to the need to find new ways to reach out and in to youth who are not actively engaged in education. Similarly, Dr Hill spoke about the data findings highlighting a need for more flexible and responsive surge funding to respond to youth suicide clusters to mitigate against potential suicide contagion.
Next up, Joe Ball, a proud trans man and CEO of Switchboard Victoria took to the stage to present 'When hate kills: preventing LGBTIQ suicide' In Joe's inimitable way he spoke to us with sometimes uncomfortable but necessary truths, truths needed for times like these when we know that right across the globe LGBTQA+ people (and particularly transgender people) are facing increasing levels of threat, hate, violence, discrimination and all kinds of inequities, Joe simply called it for what it is, not right! Joe reminded delegates that gender diversity has a deep and ancient history, long before colonisation here in Australia. Joe's presentation was for me most profoundly personal for a number of reasons. Joe's allyship for current and former serving LGBTQA+ Defence members (of which I am one) as the Australian Royal Commission into Defence Suicide resonated and mattered deeply. Joe also spoke about another hot topic (or shall we call it for what it is, yet another example of LGBTQA+ people being used as a political football, pardon the pun). Here in Australia, there is much public debate, which is causing deep harm to transgender people, relating to transgender women's rights to participate in sport in Australia.
But, just like all daringly remarkable activists often do, Joe left his mark (not just with a sprinkling of glitter dust-filled hope) but by leading with heart and mind fully engaged and offered up some very tangible and achievable solutions. Joe said we need systems-level approaches to start to address the high rates of LGBTQA+ suicide, self-harm and attempts for LGBTQA+ people. Joe also said Australia needs a National LGBTQA+ suicide prevention framework and one closely linked to domestic and family violence strategy, given the close correlation of risk exposures that occur for LGBTQ in family and domestic settings. Joe also reminded us that until we are fully seen and counted in the Australian ABS Census data, all other surveys and data sets (including research) will be incomplete. This is a pressing baseline statistics issue experienced right across the globe and one that requires immediate attention by all countries to rectify this important knowledge gap in existing LGBTQA+ data. At a local community level, Joe stated that in his view, services (at least here in Australia) are improving but he also cautioned us about well-meaning organisations to go big and move beyond simply 'rainbow wrapping' by putting up Pride flags and promoting pronoun use. LGBTQA+ diversity, inclusion and important organisational allyship require so much more than that.
To round out this excellent series of presentations on priority populations, Associate Professor Laura Shannonhouse from Georgia State University presented findings from a recent study titled 'Addressing social isolation, loneliness, and elevated suicidality among older adults during COVID-19 and beyond: A double-blind partially nested randomized controlled trial (PN-RCT) of the BE WITH innovation'  The study research question was can a "small dose of sincere connection" improve mental health outcomes from a standardised and manualised 8-week warm calling intervention with older adults? 540 older adults across 3 conditions. Preliminary findings showed a "small dose of sincere connection" led to improvements in mental health outcomes for older adults during the pandemic. Adults receiving these dosages from people trained in ASIST showed significantly higher positive psychological outcomes when compared to controls (reduced depression and thwarted belongingness, increased amount of social needs met) The study also found that ASIST is more than just gatekeeper training and is a way of communicating and fostering interaction.
Of course, during the remainder of the day, I managed to get to a number of brilliant presentations covering a wide array of diverse and interesting topics. However, I've taken enough notes, enough to send you all to sleep reading, (because they really are enough to fill an essay, not a blog).
So, instead, I'm choosing to fast forward to the evening's event of the ECR Pecha Kucha, hosted by the wonderful team from Orygen Chatsafe and led enthusiastically by Jo Robinson. An event I was very much looking forward to. As a hobbyist photographer (and ECR), the concept of 20 slides in rolling fashion, over six short minutes, with no text on each slide just an image to convey the speaker's message appealed greatly. On arrival, there was bubbly, cocktails, canapes and everyone greeting one and another full of warmth ready to enjoy a relaxed and engaging informative fun night. MC'd by the always entertaining Mark McConville comedian extraordinaire and professional Suicidologist Alumni from the Australian Institute of Suicide Research and Prevention, eight fabulously brave ECR's took to the stage, often to the strains of their chosen backing song, (cut to Spice Girls music) to present their current research activity. Well done to every one of the presenters. I thoroughly enjoyed learning about so many innovative and hope-filled research projects that are either underway or recently completed.
The ECR's presentations were judged by a panel consisting of three of last year's World Congress Pecha Kucha ECR presenters. Awards were handed out to a runner up, a people's choice and of course a winner of the best presentation. The three shining star ECR's winners included: First Prize to Laura Hemming from Orygen 'Tell Me What You Want, What You Really, Really Want: Involving Young People In A Priority Setting Exercise For Research Into Suicide Prevention, the runner-up award went to one of conference ECR events' organising committee member extraordinaire and all-round nice guy Andrew McMahon from Everymind/University of Newcastle presenting 'Caring for those who care – exploring the experiences and needs of family and friends caring for a person who has attempted suicide and the Peoples' Choice award went to Natalie Peart from the University of Auckland presenting 'The new face of youth mental health intervention: an analysis of a proactive digital intervention and risk assessment practices on Instagram'. This was such a fun and engaging way to showcase the work of a talented bunch of ECR's. To watch the full live stream, why not check out Chatsafe's Facebook page for the full recording of the Pecha Kucha Livestream.
Well, that's it from me signing off. I can't wait to see what's in store for next year's World Congress event in Slovenia which will once again be hosted by the brilliant team behind (and leading from in front) at The International Association of Suicide Prevention.