The IASP World Congress is the primary global collaborative opportunity for expert thinking related to suicide and suicide prevention, bringing together academics, researchers, practitioners, those with lived experience, diverse backgrounds, and innovators associated with suicide prevention efforts or working within suicide prevention related topics. To all our delegates and presenters, we thank you for making the 2021 World Congress such a success.
Access to the recordings of the Congress presentations are available to all delegates on the Congress virtual platform.  Please use your personal conference link provided to you before the conference, to access these.
If you have any questions about the  World
Congress,
 please first check our
FAQ page
.
For blogs, podcasts and other materials
Sign up for updates on future events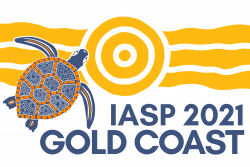 Being With Nature
Indigenous artist, Alara Geebung (Cameron), forged the connections between the Gold Coast's natural beauty in the unique piece of art that aims to portray the importance of connected pathways coming together. The artwork has been created to welcome the IASP World Congress to Gold Coast, Australia and is represented within the new IASP Gold Coast logo.
Tourism & Events Queensland
With their vision of 'inspiring the world to experience the best address on Earth', they are a consumer-led experience-focused & destination-delivered organisation that connects people & places like never before through innovation & collaboration with the tourism & events industry.

Lived Experience Summit 2021
The Roses in the Ocean Lived Experience of Suicide Summit 2021 was from the 19 – 20 September 2021. Please read more about this wonderful event at the Roses in the Ocean website.

Developed in 1996, the Australian Institute for Suicide Research and Prevention (AISRAP) is a national and international suicide prevention research centre. AISRAP is the leading Australian centre for research, clinical practice, education and community action for suicide prevention, sought after for the quality of the advice and the outcomes it provides in linking research and practice.

Our fathers, brothers, sons and friends are dying by suicide, every minute of every day. We won't accept this. To make change happen, Movember focuses on mental health and suicide prevention interventions through a male lens. We focus on early intervention, engaging men and boys and working to their strengths.

The Commission monitors and reports on investment in mental health and suicide prevention initiatives, provides evidence based policy advice to Government and disseminates information on ways to continuously improve Australia's mental health and suicide prevention systems, and acts as a catalyst for change to achieve those improvements.