The EU-funded "Mental Health Promotion and Intervention in Occupational Settings" project, known as MENTUPP, has just launched its Pilot Study to test its newly developed Hub.
The four-year EU project, which aims to improve mental health in workplace settings with a secondary aim to reduce depression and suicidal behaviour, began in January 2020, and is designed as follows:
Develop a multi-level intervention, delivered through a Hub, by adapting and integrating existing, evidence-based interventions for non-clinical and clinical mental health issues and de-stigmatisation of mental (ill-)health into a single programme;
Tailor the online intervention by workplace sector and gender, as well as pilot and optimise the intervention in nine countries across Europe and Australia;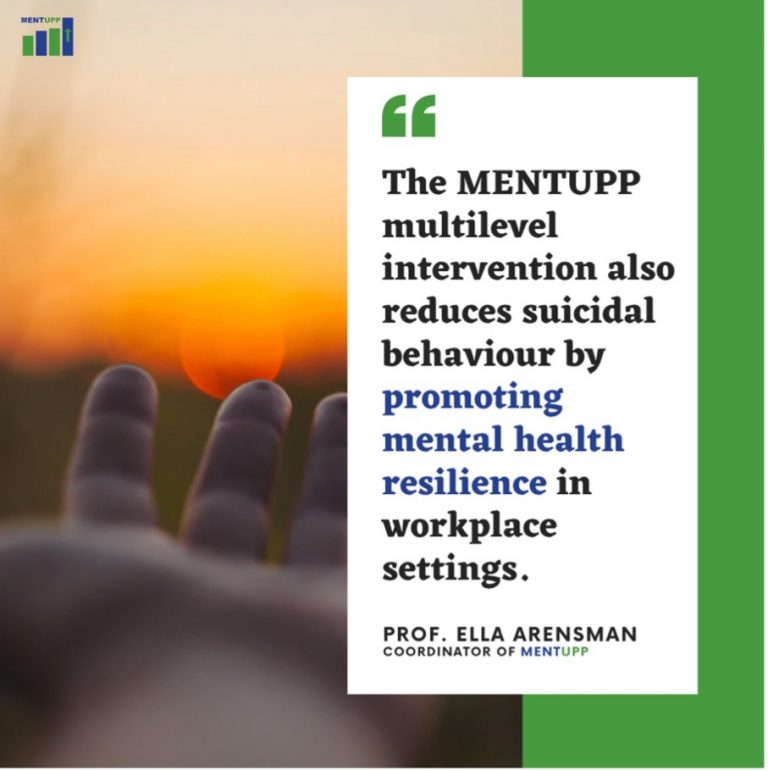 Conduct a multi-country cluster randomised controlled trial (cRCT) in nine countries across Europe and Australia to assess the effectiveness of the optimised intervention, looking at improvements in the mental health of employees and employers, and cost-effectiveness and implementation factors in Small and Medium Enterprises (SMEs) in the target sectors;
Further optimise the intervention for wider replication in new SMEs and countries after the project ends; and
Promote the project and intervention to stakeholders, including policymakers, insurers, social partners, regulatory authorities, and the general public at both European and global levels.
The Consortium recently published a systematic scoping review protocol, "Evidence for implementation of interventions to promote mental health in the workplace", aimed at identifying relevant literature reviews, primary research and grey literature to increase understanding of factors influencing the successful delivery of interventions improving mental health in workplace settings. 
The new MENTUPP Hub has been developed to help SMEs create a healthy work environment through an online multi-level intervention, which is tailored by workplace sector and gender, for non-clinical and clinical mental health issues and de-stigmatisation of mental (ill-)health. The online intervention has been built on a solid foundation of evidence and a Delphi survey with a wide range of experts in occupational health and stakeholders in SMEs. 
The Pilot Study to test and optimise the Hub began in May in several SMEs in the health, construction and ICT sectors in Europe and Australia. To ensure that the intervention is fit-for-purpose and feasible, the study is being conducted in at least nine SMEs and includes an evaluation and optimisation phase. During the study, users can access all the materials and interventions through the Hub. The MENTUPP Hub is not a once-off training session, it is designed to support users as they learn and engage with the materials over a period of six months. The materials do not have to be completed in a particular order and on average, employees and leaders need about 20 minutes per week, over six months, if they were to use them all.
The Pilot Study will inform how the Hub is tailored and optimised before the cRCT is conducted across Europe and Australia.
IASP, as a Consortium partner, contributes to the communication and dissemination activities of the project alongside the European Alliance for Depression (EAAD) reaching out to its extensive network and experts in the fields of suicide prevention.
For more information about the project, visit mentuppproject.eu or send an email to mentupp@eaad.net. All project updates and news will be promoted through the MENTUPP social media pages. Follow MENTUPP on Twitter and LinkedIn to stay up to date.