19th European Symposium on Suicide and Suicidal Behaviour
24-27 August, 2022 - Copenhagen, Denmark
The European Symposium for Suicide and Suicidal Behaviour (ESSSB) is a biennial conference held in Europe. The aim of the conference is to provide a venue of knowledge exchange between researchers, clinicians, practitioners, and people with lived experiences. The 19th ESSSB conference will be held in Copenhagen on 24 – 27 August 2022.
Now more than ever…The recent pandemic has affected all parts of the world and too many lives have been lost. It has reminded us of our own vulnerability and the need to care for those who are frail and at risk. We have seen what can be achieved through global collaboration and evidence-based research. In this context, suicide prevention remains a top priority in public health and new ways of reaching out need to be explored. We hope that the conference in Copenhagen will become a venue for exchanging ideas and building hope.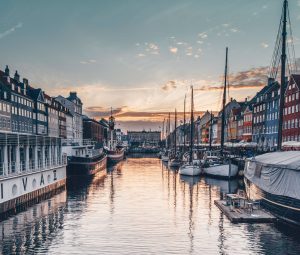 ESSSB19 will take place in the Panum Building
It is a large complex that is part of the University of Copenhagen's North Campus in Copenhagen, Denmark.
The Panum Building was built from 1971–1986 by the architects Eva and Nils Koppel, Gert Edstrand, Poul Erik Thyrring and reflects Brutalism.
In 2012, construction began on an extension of Panum, called the Maersk Tower. The tower was inaugurated on January 18, 2017.