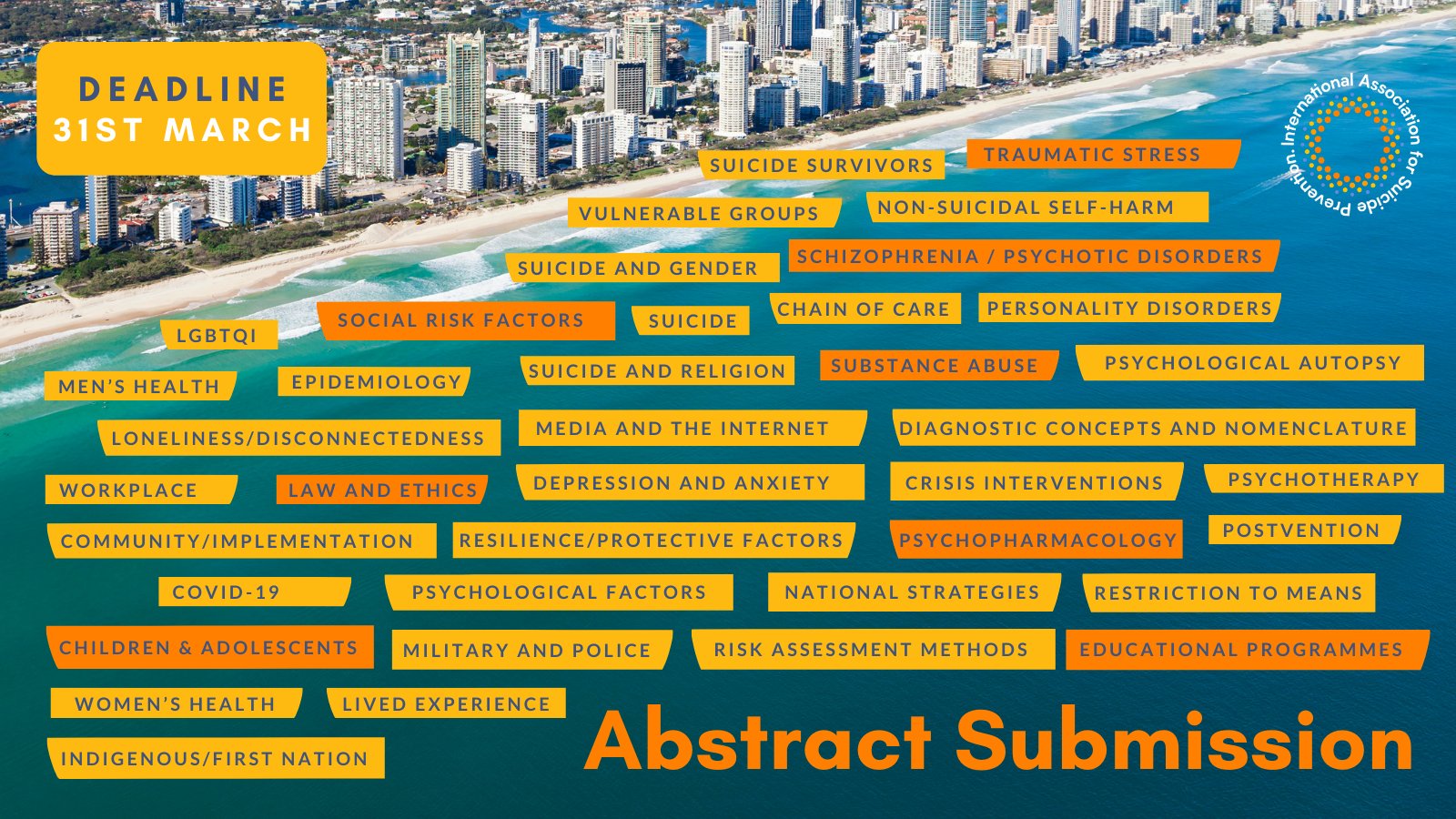 Abstract Submission
The Symposia and Workshop Abstract submission portal has been extended - the deadline is now 15th April 2.30pm GMT
The Oral and Poster Abstract submission portal will close April 30th.
The following range of suicide prevention related topics should be considered: Men's Health, Loneliness/Disconnectedness, Workplace, Community/Implementation, COVID-19, Children & Adolescents, Women's Health, Indigenous/First Nation, LGBTQI, Epidemiology, Social Risk Factors, Suicide and Gender, Law and Ethics, Vulnerable Groups, Suicide and Religion, Psychological Factors, Suicide, Depression and Anxiety, Resilience/Protective Factors, Media and the Internet, Military and Police, Lived Experience, Suicide Survivors, Non-suicidal Self-harm, Schizophrenia / Psychotic Disorders, Traumatic Stress, Substance Abuse, Personality Disorders, Psychological Autopsy, Risk Assessment Methods, Crisis Interventions, National Strategies, Psychotherapy, Diagnostic Concepts and Nomenclature, Psychopharmacology, Postvention, Chain of Care, Restriction to Means, Educational Programmes.
Oral and Poster Abstracts must be loaded in 'WORD' format and be no more than 425 words in length.
Symposia and Workshop Abstracts must also be loaded in 'WORD' format and be no more than 1600 words in total. 90 minutes will allocated for Symposiums.
Prior to submitting your Abstract please ensure that your submission meets the criteria as listed on the submission page