World Suicide Prevention Day (WSPD) was established in 2003 in conjunction with the World Health Organisation (WHO) and is a significant advocacy and communication based event aimed at reaching national organisations, governments and the general public, giving a singular message that suicide can be prevented.
WSPD is considered an effective tool in these efforts and the WHO Report: Preventing Suicide: a Global Imperative (WHO, 2014) marks it as a policy achievement, stating:
'This day has spurred campaigns both nationally and locally and has contributed to raising awareness and reducing stigma'.
WSPD continues to grow year on year, with recent years seeing the day observed in more than 60 countries with hundreds of events ranging from educational and commemorative events to press briefings and public conferences. The Internet and Social Media coverage has ensured millions of people around the world are linked to WSPD  on September 10th and in 2020 the IASP produced Step Closer film was viewed over 30 million times. Recent WSPD Impact reports can be viewed here.
WSPD RIBBON
In 2016, alongside our partners, IASP launched a universal suicide prevention awareness ribbon in the hope that the suicide prevention awareness ribbon would become globally recognisable much like other ribbons for other worthwhile causes are.
Following a review of ribbons and colours used to signify suicide prevention awareness around the world, yellow and orange were the two predominant colours that stood out and the ribbon was therefore put together using these colours.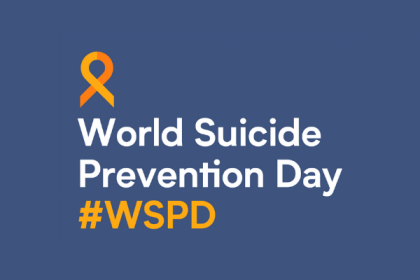 The two toned ribbon is indicative of the light of a candle flame which ties in nicely with the IASP "Light a Candle" campaign as well as the candlelit walks that many arranged around the globe for WSPD.  It also works well with the "Out of the Darkness into the Light" arranged by partner organisations for WSPD and other activities.
TWITTER EMOJI
In 2018 IASP was delighted to announce the support of Twitter with the launch of the international suicide prevention ribbon emoji in yellow and orange, for World Suicide Prevention Day.
When a tweet used one of the designated hashtags in 16 languages; Twitter automatically applied the emoji, over the WSPD period.  The emoji has returned to WSPD every year since.
History of World Suicide Prevention Day
The first World Suicide Prevention Day was successfully launched in Stockholm, on 10 September 2003 as an initiative of IASP and the World Health Organisation (WHO), designating the day as a way of focusing attention on the problem world-wide and confirming the message:
Suicides are Preventable
In IASP's July 2003 newsletter, the then IASP President, Professor De Leo, announced to all IASP members:
'This will be the day for all those people who have suffered because the worst of the human tragedies happened too close to them. This will be the day for governments to know that suicide must be a priority in their public health agenda. This will be the day for all people on the earth to recognise that suicide is an important problem, and if the World Health Organisation has decided to endorse this celebration it must mean that its dimension is huge, and that no one is immune from it. But this will also be the day for us, IASP members, who have dedicated and are dedicating our lives to avert suicide, and who, at the very least, have contributed to raise awareness, worldwide, on the size and stigma of this immense suffering'.
IASP, in collaboration with inter-government agencies, governments, NGOs, international and national associations, clinicians, researchers and volunteers use WSPD as an instrument to promote awareness about suicide and its prevention.
In a press released on 10 September 2003, Professor De Leo went on to say:
'World Suicide Prevention Day aims to put the issue on the agenda globally and regionally, but it also seeks to show that action must be taken locally – and this action starts with you and me.

The Day underlines the responsibility for all of us to help save lives that may be at stake. It is possible – we can do it.'
In 2004, WHO again agreed to co-sponsor the day and World Suicide Prevention Day became an annual event.
Annual WSPD Themes 2004 - 2017