Travellers Together Preventing Suicide '22 (Ireland)
September 10, 2022 @ 3:00 pm

-

8:00 pm

€5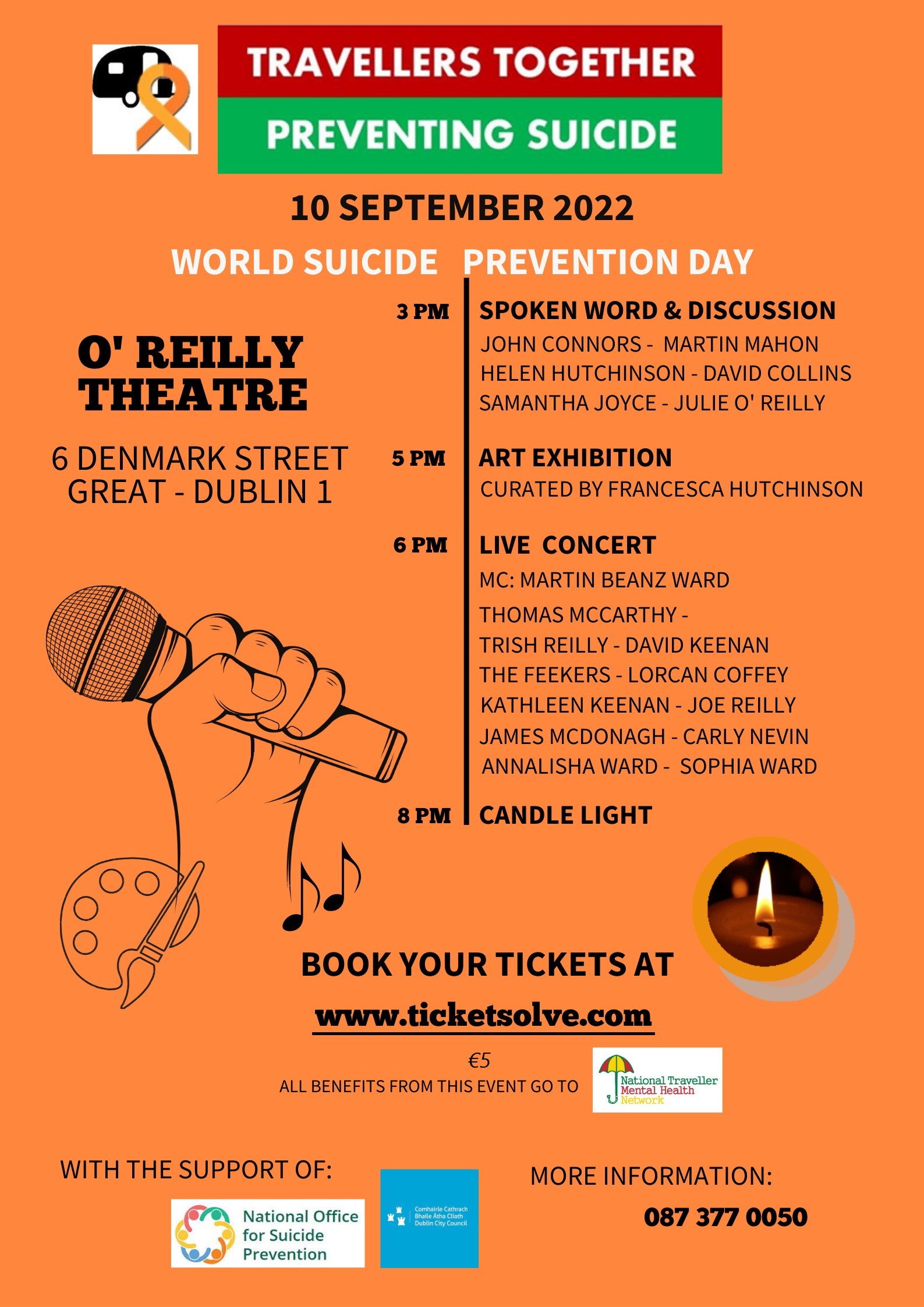 Travellers are an indigenous ethnic minority in Ireland with a suicide rate at least 7 times higher than the majority population. There are in around 45,000 Travellers living in Ireland. The community experience the highest rates of discrimination and the poorest health status and social inclusion indicators, including a very high unemployment rate and low education completion rate. (see  Traveller Community National Survey – Community Foundation Ireland 2017, A Social Portrait of Travellers in Ireland, ESRI 2017).
For the last 3 years, a group of volunteer Travellers and Traveller organisations have been organising the Travellers Together Preventing Suicide Campaign with the aim of marking the high incidence of suicides among Travellers and the need to urgently act on it.
Please see this year's event poster. It will be a 3 part event including a Spoken Work/discussion about issues affecting Traveller suicide, an art exhibition curated by Traveller artist Francesca Hutchinson and a live concert concluding with a candle light at 8pm.
There is a fantastic lineup of Traveller artists collaborating in each of the day's sections and Martin Beanz Ward will be the MC for the day.
The O'Reilly Theatre (Belvedere College, Denmark Street Great, Dublin1) is the venue that will be holding the Spoken Work discussion, exhibition and live concert.
We believe it will be very beneficial occasion, in terms of highlighting the issues of suicide but also by framing the issue in a positive context of Traveller creativity and togetherness. We are hoping to have as many people as possible being part of the day. The event is family-friendly!
Please feel welcome to join us.  Tickets are €5 as a way of ensuring attendance but also to gather some funds for the National Traveller Mental Health Network (which does not have any statutory funding). They can be acquired at ticketsolve.com.